The Climate Futures Fellowship is a year-long fellowship in collaboration with one of the Center's partner organizations. Fellows receive payment on a contract basis for work on the project. Recent graduates have the opportunity to send in proposals based on their career goals, and the needs of the Center. The application for the 2020-21 is currently closed. For information on next year's fellowships, or to discuss a potential project, email Daniel Bellerose at daniel.bellerose@emu.edu.
Our fellowship is a completely unique program; allowing you to create the fellowship you have always dreamed of. If you are interested in working in climate action, be it through photography, activism, storytelling, or research, and if you share values with the Anabaptist community, this is the fellowship for you!
The Fellowship is administratively based out of Eastern Mennonite University in Harrisonburg, VA, but the proposed work can be based anywhere. Some suggestions based on the Center's core partner offices are:
Your proposal can be a project in any number of disciplines, some suggestions are:
Research
Activism/advocacy
Finances/business
Storytelling
Photojournalism
The only requirements for the proposal are that they fit with the mission of the Center, work in some way with the Anabaptist community, and fit with the current programs that the Center is working with. Proposals will be considered that expand programs or work broadly in innovative solutions. You can apply for the Climate Futures Fellowship as an individual or as a team (two positions are available).
Why should I apply?
If you have a passion for action, and a desire to work for the future of the planet, and your career, there are so many reasons to apply!
Flexibility: Create a fellowship based on your career goals and your skills; don't make your skills fit another position. Flexible, open applications allow you to exercise your creativity.
Innovation: Work with an organization that supports work from across the disciplinary spectrum in the Anabaptist community to create innovative climate solutions.
Support: With connections throughout the world of climate action, the staff at the Center can offer unparalleled support to your work throughout the duration of the fellowship.
The Climate Fellowship application opens in November for the 2021-22 season. If you are interested in being notified when applications open, please email Daniel Bellerose at daniel.bellerose@emu.edu.
Current Climate Futures Fellow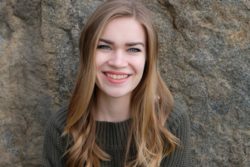 Our 2019-20 Climate Futures Fellow is "developing
creation care plans for Mennonite Churches
interested in introducing sustainable practices to their congregations, or taking their current practices to the next level. Katie Isaac is a graduating senior from Fresno Pacific University and will be using the fellowship to continue work on a senior research project, by creating strategic plans for churches. From interviewing pastors, to developing and designing plans, Katie has a busy year ahead of her! You can find our more about her work here.